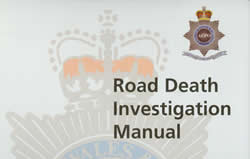 Background
Started in April 1990, by the principal, Ian Smith, a former traffic Policeman, P.T.A.S. has brought together well over 100 years of expertise in those disciplines most relevant to:
with direct links to the many allied and associated areas of expertise.
In areas related to the investigations undertaken, P.T.A.S. have built up a European network of associated expertise, which enables us to assist in most areas of vehicle related matters.
Trained in vehicle examination and crash investigation / reconstruction techniques during the early 1980's, Ian was one of a small number of officers in the Devon & Cornwall Police directed to attend all fatal and serious injury accidents.

Regarded as a Force authority on abnormal loads and commercial transport law, Ian would regularly instruct other officers and advise the Crown Prosecution Service. Seconded to the Avon & Somerset Police for four years to assist with, and later manage, the largest and only successful major tachograph fraud enquiry undertaken in Europe to date.

Since starting the business, Ian's commercial transport expertise earned him the accolade of Transport & Distribution Manager of the Year 1995, a competition which Ian then joined the panel of examiners (the first winner to do so). He is now asked to address lawyer and commercial transport training programmes.

Sam entered the world of motor vehicles in the late 1950's and learnt his trade on commercial vehicles. He later moved to the Department of Transport / Vehicle Inspectorate involved the day to day examination and enforcement of all road vehicles and has recently worked in a top managerial role at Devon County Council.

Ian brings over 25 years experience in commercial vehicle operating and driving legislation gained from his service in the Police, latterly specialising in commercial vehicle enforcement. In retirement, Ian has been responsible for training Police traffic officers in the intricacies of the tachograph, drivers' hours regulations, the weighing of vehicles and the movement of abnormal loads.

From a 30 year background as a driving examiner, concluding as the commercial vehicle examiner in Exeter, John is still involved in the instruction of drivers preparing for their commercial vehicle tests.
Past instructions of note have included:
2005: Navan, Co. Meath, Republic of Ireland

School bus overturned - 5 teenage schoolgirl fatalities

2004: M25 Sevenoaks, Kent

Multi-vehicle accident that closed the M25

2000: M5 Avonmouth Viaduct, Bristol

Multi-vehicle accident involving 2 fatalities

1996: A40 Raglan

Coach accident involving 10 fatalities

1995: Newquay, Cornwall

Mechanical digger arm accident, involving 5 fatalities

1994: M5 Bristol

Fatal double decked coach accident involving the Royal Marine Band
In addition to their individual qualifications, P.T.A.S. are active members of the following, and adhere to professional codes of conduct and confidentiality:
The Academy of Experts (MAE)
The Institute of Traffic Accident Investigators (MITAI)
The Institute of Professional Investigators (MIPI)
The Institute of Transport Administration (MInstTA)
Society of Operation Engineers (AMSOE - IRTE Sector)
Law Society / UK Register of Expert Witnesses checked expert