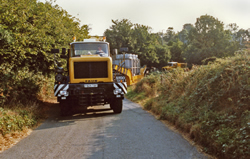 And Finally...
PTAS are respected experts in their fields
expertise / knowledge of many associated road traffic areas
conversant with the Road Death Investigation Manual
established Europe wide contacts with allied experts
collection, appraisal of evidence
advice, guidance, management of enquiries / investigations
reputable, progressive legal advice, where needed
PTAS are happy to discuss your initial concerns without obligation and, where necessary, to recommend others better able/qualified to assist, if the expertise is not available amongst their own experts.
Major enquiries, can be managed / pursued on your behalf, providing you with only one point of contact but ensuring that matters proceed, as you instruct, by someone acting in your best interests.
If all else fails, you are in a dilemma as to your next move - impartial discussion/advice can be obtained for the price of a telephone call.
Office: +44(0)1392 877337 Mobile: +44(0)7836 325916